Finalmente in campo!
Si è disputato ieri il primo match Seniores, dei tre previsti, per il "Trofeo delle Porte milanesi"

Tanto impegno e tanto lavoro in questi difficili mesi dove oltre 50 giocatori si sono allenati, con tante restrizioni nel rispetto di tutte le procedure covid.
Mesi di preparazione per gli uomini di Pisati che hanno sempre dimostrato massima serietà e impegno, allenandosi con numeri che non si erano mai visti, da qui l'idea di creare 3 squadre.
1 gruppo, 3 squadre, 3 partite.
Un torneo, questo, che conclude un biennio che ha colpito duro. Nato dalla voglia di rialzarsi e dal piacere di giocare a rugby.
Nasce così la Prima Edizione del Trofeo delle Porte, triangolare interno di Amatori Union per la squadra Seniores.

Le Squadre, divise per quartieri di Milano: Porta Romana (rossi), Porta Ticinese (blu) e Porta Nuova (gialli) si sfideranno in un triangolare.

Risultati:

Porta Ticinese VS Porta Nuova 24 – 24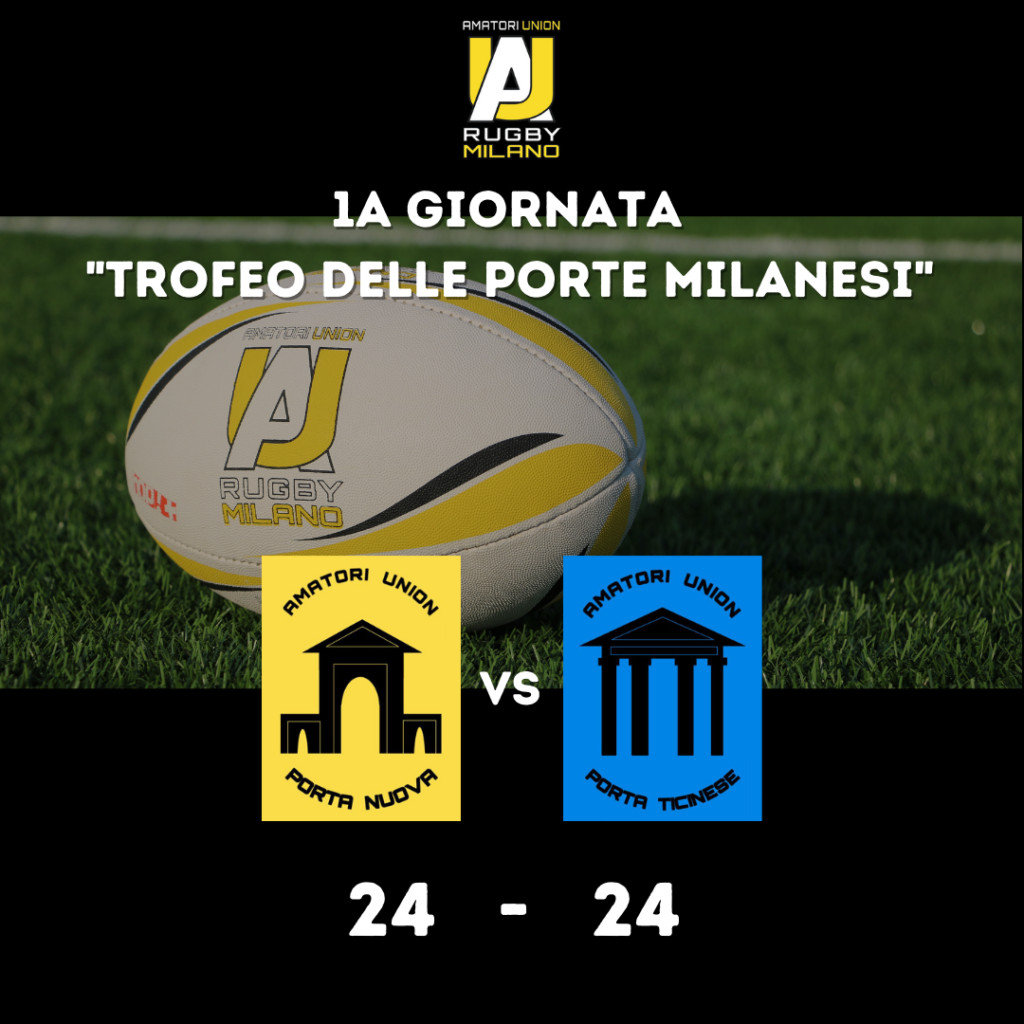 Porta Ticinese: Piciaccia, Bandoni, Sainovic, Arbitrio, Sirtori, Rebuzzini, Pignatelli, Furlani, Di Carloantonio, Cazzamali, Riva (cap.), Morelli, Mussi, Stabile E., Stabile R., Dagrada, Alberti.

Porta Nuova: Caldara, Reyes, Morosi, Del Vecchio, Carozzo (cap.), Gola, Pirotta, Bertolini, Gini, Trimarchi, Poletti, Terenghi, Achilli, De Bello, Tediosi, Saita.

Joker Medical Porta Romana entrati: Persi, Casabianca, Dorfmann, Ciusani, Membrino, Spreafico, Megna, Telli, Signorelli.

Man of the match: Morosi.